A Diving Vacation
In 1996, Les Trumbull persuaded a number of members of the Califonia Sport Divers Club to join him on a "mystery trip," the destination of which they would find out only upon departure. They had such a good time (they ended up in Puerto Rico) that Les was persuaded to do it again. This time I was a member of the group, and we went to the Turks and Caicos islands and spent a week aboard the
MV Sea Dancer

---
July 4 - 12, 1997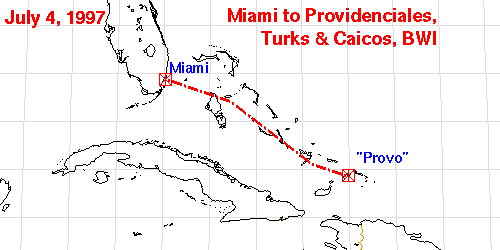 We assembled at the American Airlines counter at 6:00 Friday morning, Independence day. Les wanted to keep the destination secret a while longer, but FAA regs required that we check in personally, so... Les handed out our travel documents, and a nice T-shirt for each of us. Thus we found ourselves off to a place many people have never heard about. There were eight of us: Les, Rusty and Sue, Jerry, Lou, Walter, Linda and me. SFO to Miami International and from there to Providenciales, Turks and Caicos.

After an night at the Turtle Cove Inn, we boarded the Sea Dancer at the Island's "ship yard." We met the crew: Eduardo a Porteño, was the captain, Kiwi, the alternate captain. The engineer was Robert, born in Rhodesia, but came lately from Canada. Michael Ann was the photographer/ dive-master, also from Canada. Stan the cook was a local islander, and Iris the maid/waitress came from the Dominican Republic.

We unpacked our gear, located our berths and had a chance to look the boat over. About an hour later the rest of the passengers arrived, having just flown in from Houston. There were nine of them: Chuck and Theresa, David and Shelley, Michael and Sharon, Everet and Carol, and Bob. Bob and I bunked together. During dinner and after, we got to know each other a little and, as it reached our various bedtimes, we went below and climbed into our bunks.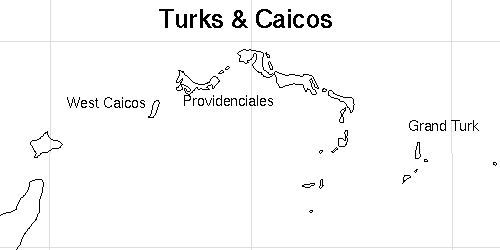 Sunday morning we were awakened by Iris delivering hot coffee to our staterooms. The engines started up at 7:00 and Eduardo carefully took us out through the narrow and shallow channel to one of the passages through the Caicos Banks. We headed roughly west to the island of West Caicos. We enjoyed our breakfast during the trip, and were ready to dive when we arrived and picked up the mooring buoy.
Our gear was all ready, and all we had to do was put on our BCD's and masks, walk aft to the ladders and down to the dive platform. The crew handed us our fins, which we donned and then stepped into the water.
---
---
Sea Dancer - Day 1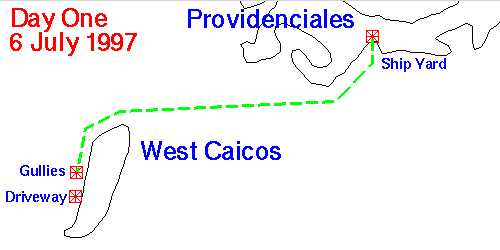 Our first dive of the trip was at a site called the "Gullies" on the leeward side of West Caicos Island. The mooring was situated so the boat was near the edge of the wall. The reef extended out from the island about three quarters of a mile, gradually deepening to about 70' and then dropping off to over 2000'.

The scenery was spectacular: the reef top was covered with coral heads and sand channels, and then dropped of into the abyss. Colorful reef fish were everywhere. We saw queen triggerfish, several filefish, chromis, royal grammas (fairy basslets) and black-cap basslets, queen angels, gray angels and rock beauties. And we saw one orange-brown seahorse. Of course, since we were all using this dive as an aclimation dive, no-one brought a camera down. On the second dive, the seahorse couldn't be found.

I was napping when time came for that second dive, and my buddies were considerate not to wake me. When they got back from the dive, I told them that I appreciated their kindness, but in the future I wanted to be awakened.

After the second dive, the boat moved to another site, "Driveway," where we did two more dives. On the first, I saw a couple large reef sharks, the "usual" colorful reef fish, and a couple "flamingo tongue" snails.

The last dive of the day, after dinner, was a night dive. Among other things, we saw a large nurse shark, a southern stingray, an arrow crab, a hermit crab and a spiny puffer.
---
---
Sea Dancer - Day 2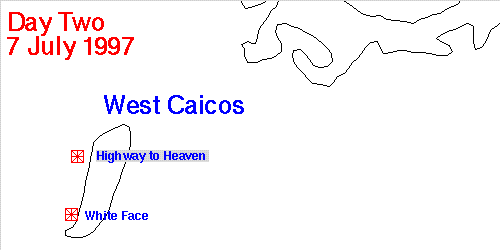 Monday morning during breakfast we moved again, this time to a site called "Highway to Heaven." Two dives and then lunch.

The highlight of the second dive was an encounter with a cleaning station. I observed a small grouper hanging motionless above a coral head, and as I approached, I noticed he had a dozen small fish swarming around him. These were shark-nosed gobies, and they were cleaning dead scales and parasites off him. After about half a minute, the grouper twitched and all the gobies returned to their coral head.

I swam up to the spot and put my hand out to about where the grouper had been. Fifteen seconds later, my hand was covered with little fish, nibbling my skin and hair.

Half a minute later, my buddy, Lou, pointed past my right shoulder. I looked to my right and, less than a foot away from me a pair of four-and-a-half-foot long barracudas were waiting their turns. I shook my hand, scattering the gobies, and swam away. The first barracuda slipped into position and opened its mouth, and the gobies swarmed over it.

During the night dive, I had the chance to play with a little reef octopus, trying to coax it out of a small hole in a coral head.
---
---
Sea Dancer - Day 3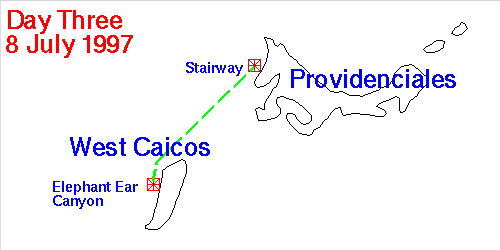 I skipped the first dive of Tuesday morning at "Elephant Ear Canyon." But I made the second dive to see the large and very old elephant ear sponges that give the site its name. Lou, Linda and I also saw some large hermit crabs living in queen conch shells.

After lunch, we slipped the mooring and headed north to Northwest Point of Providenciales. We anchored at a site called "Stairway," so-called because the reef dropped off in a series of steps of plate coral. On two dives here I saw some large lobsters inside a small cavern, and a very small longsnout butterfly fish.

After the first dive at the "Stairway," I was heading toward my stateroom when I noticed Shelley was sitting in the pilot chair in the bridge with an oxygen mask on her face. It seems she had some tingling in her hands and feet and she was being treated for DCS. She was taken ashore to the recompression chamber for treatment.
---
---
Sea Dancer - Day 4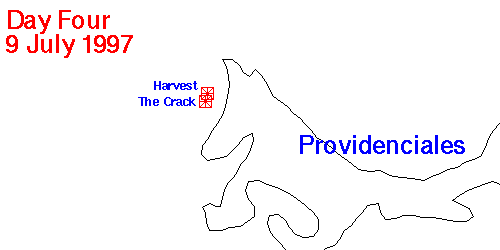 Wednesday we spent at "the Crack" and "Harvest" off Northwest Point. There was an old anchor stuck through the coral at the "Crack." We saw more colorful reef fish and interesting crabs and shrimp. There was an arrow blenny lurking under a plate of coral. This little (1") fish hovers with its tail cocked around, ready to flick and dart away.
That evening after dinner, Michael wanted to take pictures of us all since there was a gorgeous sunset for background.
Shelley had returned after two chamber "rides." But was now restricted to snorkeling.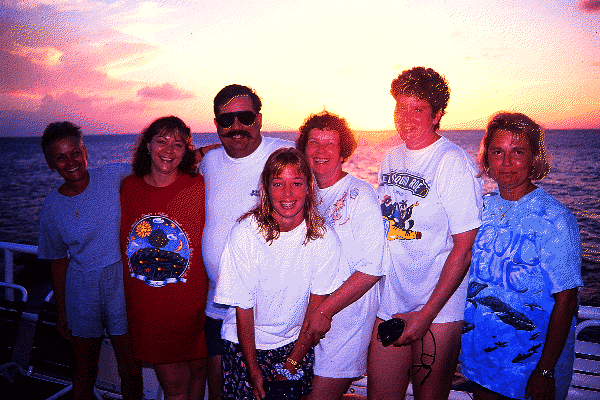 ---
---
Sea Dancer - Day 5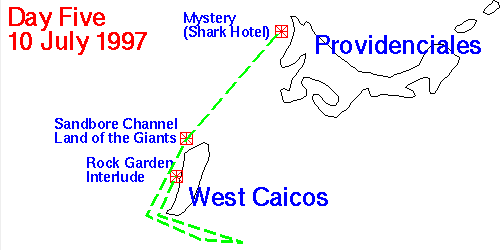 Thursday, I decided to rent a camera for the day. Michael set me up with a Nikonos V and strobe unit. The first dive of the day was at a site commonly known as "Shark Hotel," though Eduardo called it "Mystery" because he had never seen a shark there. I got a few good pictures, including one of a pair of very large lobsters.
When I got back to the boat, I heard that Shelley's DCS symptoms had recurred with a vengeance, and she was rushed back to the chamber for another treatment. We didn't see her and David again until we got back to the ship yard Friday.
After Kiwi got back from dropping Shelley off at the beach, we headed south to a site in the sand bore channel north of West Caicos called "Land of the Giants." I finished off my first roll of film here, shooting more of the reef fish and coral heads.
After lunch Eduardo tried to take us east to French Cay, but a tropical storm to the southeast had kicked up the water too much for the tender stomachs of our Texan friends. We turned back and anchored at "Rock Garden Interlude" in the lee of West Caicos. On two dives here, I shot another roll of film.
At the beginning of the second dive, we noticed the visibility was getting poor. A brown tube sponge was spewing sperm into the water. A little distance away, other sponges of the same species were responding by spewing egg masses. By the end of the dive, visibility had dropped to less than twenty feet.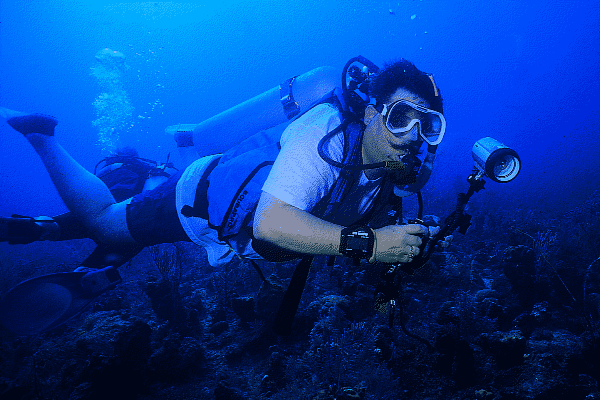 ---
---
Sea Dancer - Day 6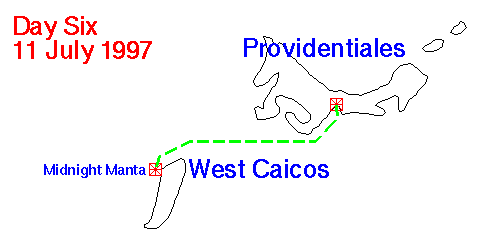 Friday morning: our last day of diving, and it was to be curtailed. The Texans were scheduled to fly out Saturday morning at 7:30, and so had to be out of the water for the last time by 7:30 Friday. We Californians were to be allowed another dive later, but the anchor was going to be pulled up at 10:00.
I didn't get up for the early dive, but was ready to go at nine. Lou and I dropped in the water. We were at a site called "Midnight Manta," and the wall dropped off steeply. We had followed the wall down to about 120' when Lou shone his light on an object below us. It was a UK1200 dive light (retail cost about $120) sitting on the coral. I headed down to it (Lou says I zoomed past him like a rocket) and picked it up. As I reached for it I noticed my depth gauge registered 156'! This was deeper than I had ever been, and much deeper than I had planned to go. I carefully monitored my computer as I ascended and the dive didn't last as long as it might have.
The dive light belonged to Chuck, who had dropped it when climbing aboard the boat after the early dive. He and Theresa were very happy to have it returned to them, and to show their gratitude, bought my drinks and dessert that night.
At ten o'clock, the engines started up and we headed back to the Provo and the ship yard. We spent the afternoon at the Turquoise Reef Resort, and had dinner at a restaurant called the Shark Bite at Turtle Cove. We went back to the boat and finished packing for the trip home.
The next morning, the group from Houston took off bright and early, and the rest of us headed back to the Turquoise Reef. A little after one, we loaded up and headed to the airport to check in for our flight. The flights were long and dreary-- we sat for an hour in the airplane waiting for a thunderstorm to move away from Miami International before we could take off for SFO. We landed in San Francisco at 11:40, eight and a half days after we had taken off, tired but happy, but also wishing it could have lasted a little bit longer.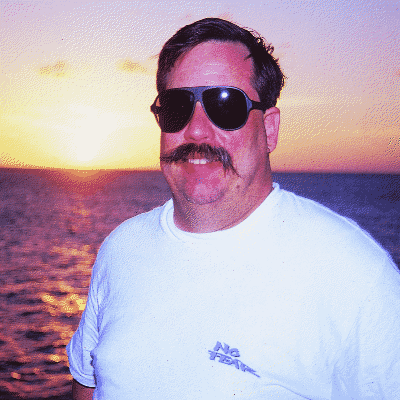 ---